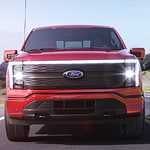 If you are looking for a truck that can handle any job, the Ford F-150 is the best option. With its impressive capability features, the F-150 can take on any task you throw at it. Whether you are hauling cargo or towing a trailer, this truck will get the job done. In this blog post, we will discuss some of the most impressive capability features of the Ford F-150.

Towing Capacity

The Ford F-150 has a towing capacity of up to 13,200 pounds. This is the highest towing capacity in its class. With this much power, you can tow a trailer or a boat with ease.

Payload Capacity

The payload capacity of the Ford F-150 is also impressive. It can haul up to three thousand pounds of cargo in the bed. This is perfect for hauling construction materials or landscaping supplies.

All-Wheel Drive

The Ford F-150 is available with an all-wheel drive system. This system provides extra traction and stability when hauling a heavy load or driving on slippery roads.